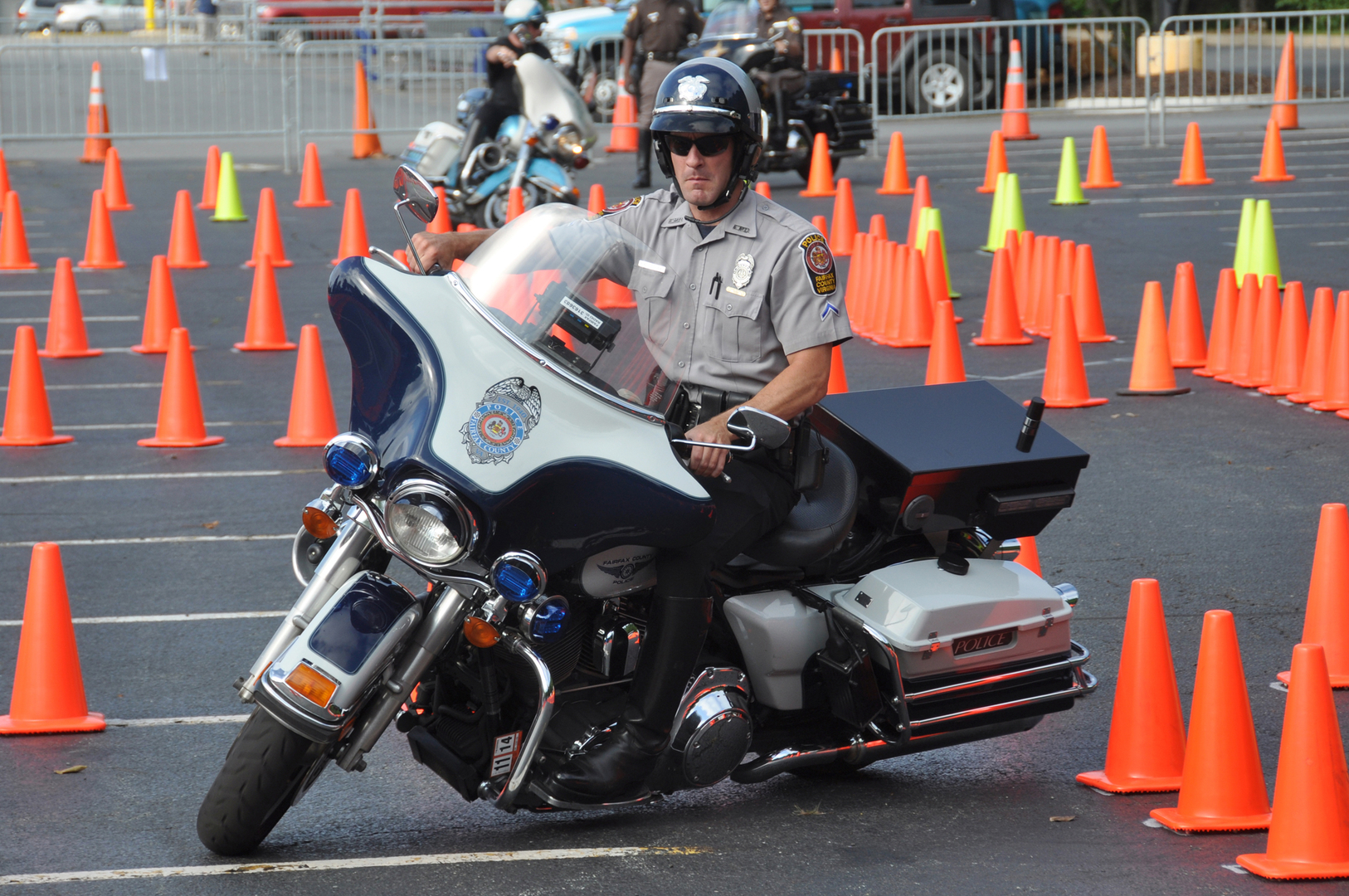 Police motorcycle safety skills competitions are also referred to as police motorcycle rodeos. The police motorcycle skills competitions are sponsored and organized events to bring motorcycle "motors" officers together from different law enforcement departments that have motorcycle patrol units to share training and safety information and compete in safety course competitions.
2015 Coppell Grapevine Police Motorcycle Rodeo, Skills Competition
Police Motorcycle Rodeo Benefits
The police motorcycle rodeos are open to the media and public demonstrating the dedication, skills, and training that goes into becoming a motor officer and maintaining the high level of safety skills required to handle a modern equipped police motorcycle safely to enforce traffic laws, escort duty, and traffic accident investigation.
The donations and money received at police motorcycle rodeos go to charitable organizations and causes. The police motorcycle rodeos increase the public's awareness of motorcycle safety training.
2015 Officer Terry Bennett Memorial Police Motorcycle Competition
The skills course for the motorcycle rodeo offer a variety of obstacles that the motor officer must navigate through safely during the timed event. The events can include two-man pair riding, four-man team riding, as well as slow ride competition.
Motorcycle Police: A Tradition of Patrol Excellence
Even though the motorcycle rodeos are designed to promote and enhance required safety skills needed to operate a police motorcycle, bragging rights for winning the competition are always up for grabs in the respected and honored fraternity of motor officers.
Earning the "Top Motor" award takes skills and hard work!
---
About the Author
Mark Bond has worked in law enforcement and has been a firearms instructor for more than 33 years. His law enforcement experience includes the military, local, state and federal levels as a police officer and criminal investigator. Mark obtained a BS and MS in criminal justice, and M.Ed in educational leadership with Summa Cum Laude honors. As a lifelong learner, he is currently pursuing a doctoral degree in education (EdD) with a concentration in college teaching and learning. Mark is currently an assistant professor of criminal justice at a university and adjunct professor of administration of justice studies at a community college.