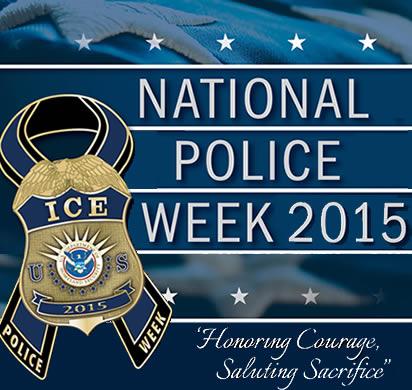 On October 1, 1962, President John F. Kennedy signed Public Law 87-726 proclaiming May 15 as National Peace Officers Memorial Day. In 1982, with leadership and support of Fraternal Order of Police, approximately 120 law enforcement officers, survivors of fallen officer, and supporters gathered in Senate Park, Washington DC to hold a memorial service for fallen peace officers. This humble beginning to honor our fallen law enforcement officers has grown into National Police Week.
On October 15, 1991, President George H.W. Bush dedicated the National Law Enforcement Officers Memorial (NLEOM). The NLEOM is located in the center of 400 block of E Street, NW, in Washington, DC.
National Police Week 2015
This year, National Police Week will be recognized from Sunday, May 10- Saturday, May 16, 2015. There will be many events held around the nation to honor our fallen law enforcement officers.
Stand with the Thin Blue Line: Please try to attended a local memorial service if you cannot attend the national memorial activities in our nation's capital.
A Time to Honor All Fallen Law Enforcement Officers
The NLEOM has become sacred ground for all law enforcement officers, their families, and supports. The NLEOM is a place to honor those officers who have made the ultimate sacrifice protecting our communities from harm. The four Bronze Lions that watch over the memorial wall are a symbol of strength, duty, honor, and sacrifice. The names of our fallen officers are engraved on the memorial walls. Each year the names of the officers who have fallen the previous year are added to the wall of heroes. The fallen officer's names are read aloud during the candle light vigil service. The reality of the dangers of the jobs can be seen in the officers and family member's watery eyes during this emotional and somber tribute to our fallen.
Recognizing All Fallen Officers
When the names of the fallen officers are read aloud this year, not all our fallen brothers and sisters names will be honored.
As a profession, we recognize service and sacrifice but we have failed to recognize and honor our fallen brothers and sisters who have committed suicide brought on by mental health illness due to their faithful service as a law enforcement officer.
These officers are the forgotten!
Why do we not recognize our own brothers and sisters who have fallen to mental health issues brought on by duty related services?
Until we have the courage to read aloud the names and engrave these brave heroes on our wall of heroes, we are not whole as a law enforcement community. To leave any fallen officer unrecognized is not what we stand for as a profession.
Underneath one of the bronze lions that guards our NLEOM is the words:
"It is not how these officers died that made them heroes, it is how they lived." -Vivian Eney Cross, Survivor
Why are we ashamed and fail to recognize that mental health issues are a real concern within law enforcement? More officers die each year by suicide than any other cause. This is a major health and safety issue, yet we place our heads in the sand and ignore the problem out of misguided pride and beliefs.
Who will have the courage to stand-up and make us whole by honoring all our fallen brothers and sisters during National Police Week?
---
About the Author
Mark Bond has worked in law enforcement and has been a firearms instructor for more than 29 years. His law enforcement experience includes the military, local, state and federal levels as a police officer and criminal investigator. Mark obtained a BS and MS in criminal justice, and M.Ed in educational leadership with Summa Cum Laude honors. As a lifelong learner, he is currently pursuing a doctoral degree in education (EdD) with a concentration in college teaching and learning.  Mark is currently an assistant professor of criminal justice at a university and adjunct professor of administration of justice studies at a community college.